The new Balenciaga bag that emulates a shopping bag is the new fashion hype.
When Demna Gvasalia took over the Balenciaga house as creative director, no one had any doubt that his proposals would hog criticism and praise equally. And so it has.
That the most fashionable bag among the influencers is a version of the typical plastic bag that you can find in any bazaar is not casual, a few years ago, in 2016 specifically, Gvasalia already borrowed the rainbow striped print from traditional Thai bags (known as sampheng bag) to launch its own luxury version and a year later did the same with Ikea bags, though, both versions of Italian made of lamb skin, nothing to do with
Shopping
The 'tote bag' of padded Parfois is the most trendy and most beautiful of the summer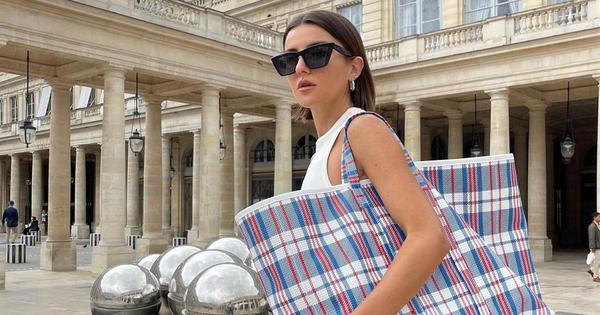 Continue reading
But Demna Gvasalia is not the first designer to have felt a crush on these kinds of shopping bags, in October 2006 Louis Vuitton, with Marc Jacobs as creative director, proposed for the spring / summer 2007 season some bags of paintings that only differed from the 'made in China' bags because they had the signature logo stamped and a much higher price. Raf Simons also got carried away by the discreet charm of plastic bags in his collection for Jil Sander in the summer of 2011.
And, now, Alexandra Pereira uploads a photo to her Instagram feed to remind us that, yes, again they take the bags of the purchase of bazaar, in version XL and with the classic printing of pictures. However, the one she wears (the Balenciaga firm) is made of puffed calf skin.
Medium bag Barbes East-West Shopperen calf leather stamped and repulsed in blue, white and red, Balenciaga (1250 euros).
Buy