Learn about the processing and meaning of these crafts that turn milk, placenta or umbilical cord into jewelery gems.
Earrings, bracelets, rings, pendants, lockets and pendulums as guardians of love given and received. Crafts made with authentic genetic material and breast milk. Yes, just as you read it. The "milk jewels" are a growing trend in our country and in Latin America, their imprint comes from abroad (they were born in the United States around the year 2000) and flourishes with the new local trends of respectful parenting and breastfeeding on demand. Its generic name groups a wide variety of DNA material: baby hair, umbilical cord, ashes of a deceased loved one, placenta, and breast milk (separately or combined).
"I started making these jewelry a little over a year ago, I observed models of milk jewelry in other countries (in the United States and Europe they are very fashionable). I investigated, I got very deep, I did tests. I was giving the breast and I was fascinated with having such a precious memory, something tangible from this wonderful stage that is breastfeeding", says Milena Smirh (30), artisan and creator of the Joyas para el alma brand, who lives in the neighborhood from Recoleta with her daughter Alma, 3 years old.
"Before, many of these souvenirs were kept at home. In the case of milk jewelry, it is subjected to a process of sterilization and conservation to transform it into a solid gem, with a lot of love, dedication, care and respect," says Morena De Lisi (27), a manufacturer who lives in Tanti, Córdoba, and offers these handicrafts in Mother's Milk Jewelry - lunar life).
"The process of drying, polishing and finalizing the gem lasts between three and ten days (depending on the model chosen). And there is a solid product almost like a stone, and beautiful. They can be the natural color of the sample or with added colours, glitter, etc.", he details.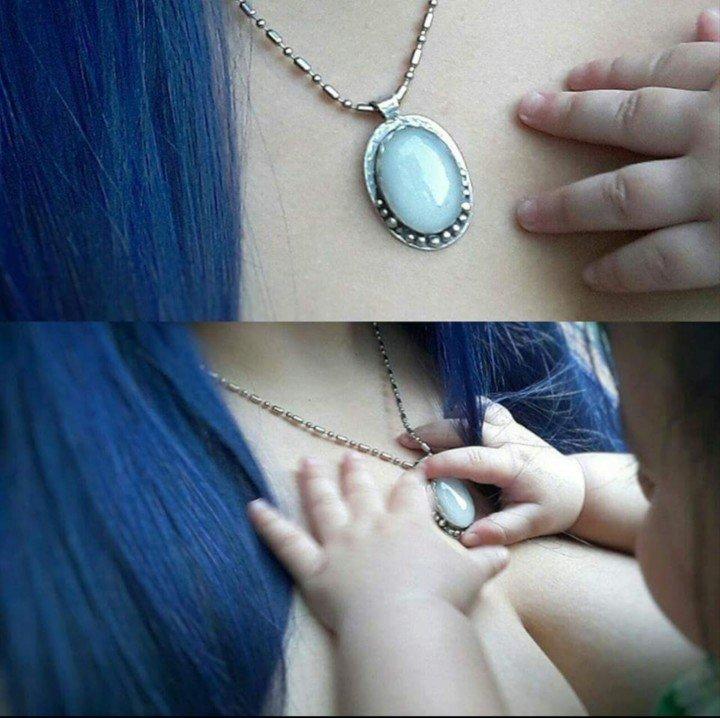 To make a pendant, a minimum of 15 to 40 milliliters of breast milk is required. The making takes about a month and is made with settings of 95 silver and, in some cases, gold, depending on demand.
You can buy a pendant from 740 pesos or rings from 760. The innovation he recently implemented benefits pet lovers: their hair and ashes can also be used to make designs with footprints and hearts.
A story behind each jewel
The interest in milk jewelry goes hand in hand with the boom in respectful parenting and the turn that gives it a foundational value at the time of lactation. Moms who lived that moment intensely seek to protect their chests, and with a certain nostalgia, the memory in the shape of a heart, drop, circle, star, etc.
"With all the beauty and intensity of this stage –says Morena- when the end (weaning) arrives, many emotions are mobilized in the mother and the baby, in addition to the physical changes. All that magic that nature offers us, to feed and nurture our young, is something that we will never forget, that is why many of us like to remember it, carry it on our chests or in our hands in the form of a magical object".
"Happy when I finally managed to have a little while to make a memory with the last drops of breast milk I had left, as a farewell to breastfeeding –says Milena-. Beautiful two years and a few months, a respectful weaning and her choice above all, with love and lots of pampering. We open a new stage and the pendant is the amulet that allows us to cross it. Alma doesn't forget and she smiles mischievously if I ask her 'do you want a boob?' She hugs me and gives me a kiss, 'No, thanks', she answers."
Thus, it is no coincidence that in many ancient cultures and in magical tales, the protagonist of the story was given a magical object that would help him start a new cycle.
The lawsuit is renewed. Belén, who lives in Salta, ordered a milk ring with a pinch of his baby's umbilical cord (he sent ours by mail). Juli, for her part, chose a drop-shaped design with the tree of life engraved on the back with the name of her daughter, Ámbar, all made with breast milk.
There are also dads who order them to give to their classmates, as is the case of Matías, who ordered a bracelet with charms and a mini pearl of milk, in the name of his baby Lolita, for his wife Flor on the day of her birthday.
For Milena, listening to stories from mothers -some of them very harsh- was and continues to be very mobilizing: "There is an intense and precious story behind each jewel. A girl has just contacted me because she lost her baby at 15 days due to a congenital heart disease, and we are going to do something with the ashes to help her elaborate that mourning in the form of a memory.
Another moving story is that of Silvia, her baby died a year after she was born and she kept a sample of fried milk in her fridge. "Now I understand why I kept it for so long," she commented to Milena. "Her story moved me a lot, it was the first time they told me about the loss of a baby. And when I finished the jewel, I didn't know how to collect it from him! And it occurred to me that I was going to offer moms who had lost a baby a bonus piece of jewellery, free of charge, with a specific design, as a way of offering my work to help them", Milena says excitedly.
Source: Clarin